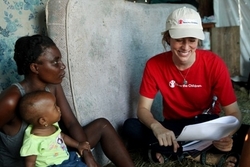 Washington, DC (Vocus) January 26, 2010
Port-au-Prince, Haiti (Vocus) January 25, 2010 — The global humanitarian organization Save the Children is supporting efforts to promote breastfeeding among new mothers in Haiti to ensure the protection of the youngest and most vulnerable survivors of the devastating January 12 earthquake. The agency has translated internationally recognized public health messages into Creole, which are currently being broadcast on local radio stations.
Critical Awareness Campaign Available to Health-focused Groups in Haiti

Save the Children is making these critical communications available to other health-focused groups that are also working with local communities affected by the disaster. Its health staff in Haiti will translate other public health messages over the coming days and coordinate with partners and communities to spread the word about keeping children healthy in the wake of the quake.
Save the Children also is training midwives, health workers and nutritional educators to reach out to pregnant and new mothers at makeshift camps in Port-au-Prince, L